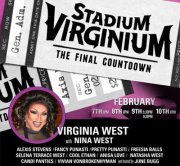 STADIUM VIRGINIUM III: The Final Countdown
Join Virginia West for her third installment in the wildly successful STADIUM VIRGINIUM series. This larger-than-life drag show takes you on a journey of music, and features some of the greatest rock songs of all time.

Featuring a cast of some of Ohio's finest entertainers, including Nina West, Alexis Stevens, Fancy Punasti, Pretty Punasti, Freesia Balls, Selena Terrace-West, Cool Ethan, Anisa Love, Natasha West, Candi Panties, Vivian Von Brokenhymen, and hosted by June Bugg.

The show will play Axis Nightclub:
February 7, doors at 7pm, show at 8pm
February 8, doors at 7pm, show at 8pm
February 9, doors at 4:30pm, show at 5:30pm
February 9, doors at 8:30 pm, show at 9:30pm
February 10, doors at 7pm, show at 8 pm.

You can get your tables now by calling (614)421-2233, stopping by Union Cafe, or online at:
http://www.ticketweb.com/t3/sale/SaleEventDetail?dispatch=loadSelectionData&eventId=3313934

WE WILL ROCK YOU!
More events at Axis Nightclub